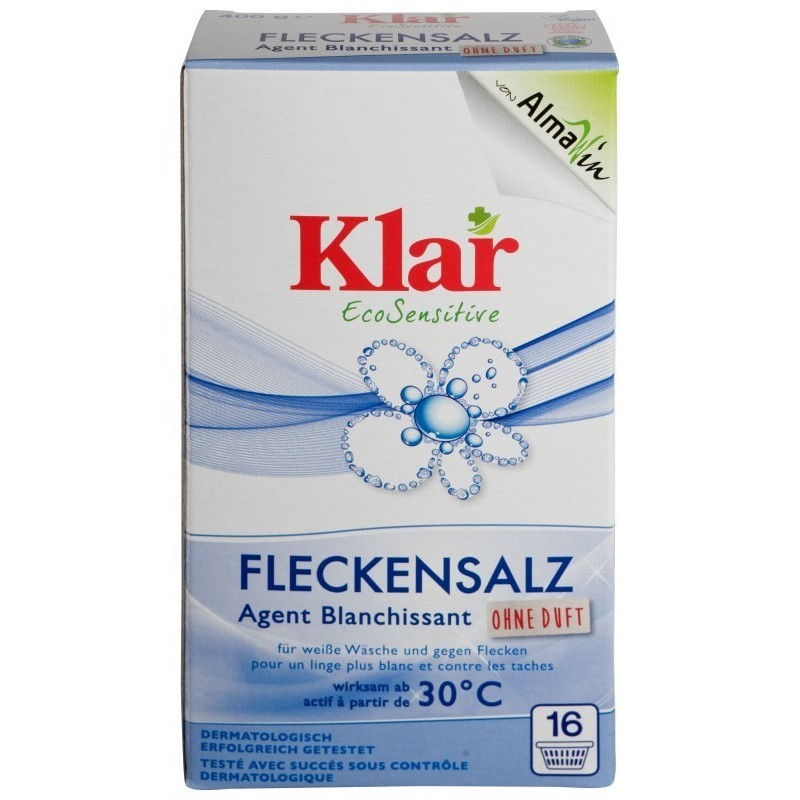  
Whitening Agent Stain Remover
The natural whitener for all white linen in addition to any laundry.
Whitening agent for a dazzlingly white linen - also acts against stains.
Tested successfully under dermatological control.

Effective from 30 ° C.

______________________________________________

ingredients

Sodium carbonate, Sodium carbonate peroxide, Sodium bicarbonate, Sodium sulfate, TAED, Sodium citrate, Lauryl polyglucose.

______________________________________________

ecological!

KLAR knowingly renounces odorous substances and additives that are superfluous and dangerous to health. It does not contain perfume or optical brightener, phosphate and borate. And of course: all genetic engineering is excluded!
Only of mineral and vegetable origin, the active ingredients are biodegradable at a glance.
Klar only uses substances with a clean ecobank. All Klar products are distinguished by the Eco-Guarantee Label from the independent Institut Certisys (Belgium), which guarantees exceptional ecological quality.

______________________________________________

Extra sweetness for ultra sensitive skin.



- all products are of plant origin - except organic soap soap

- production: 100% green current

- extraordinary quality (concentrated)

- highly sustainable range certified by EcoGarantie: the highest standards for laundry / cleaning products

- without animal experimentation

- without perfume

- without optical brightener

- phosphate and borate free

- any genetic engineering is excluded

- without synthetic component

- abandonment of superfluous and critical components and additives

- no charge material for optimum performance

- substances with a clean eco-rating

- integral INCI declaration for all components

- first and only producer recommended by the German Asthma and Allergy Federation (DAAB)

- suitable for people with allergies and those particularly allergic to ultra-sensitive and ultra-mild odorants for the skin

- first producer of 100% biodegradable liquid soapwash

- high yield, economical and cheap

- smaller, manageable and convenient packaging for travel or testing

- production in southern Germany so short transport route

For stubborn tasks: See also stain remover
No customer reviews for the moment.