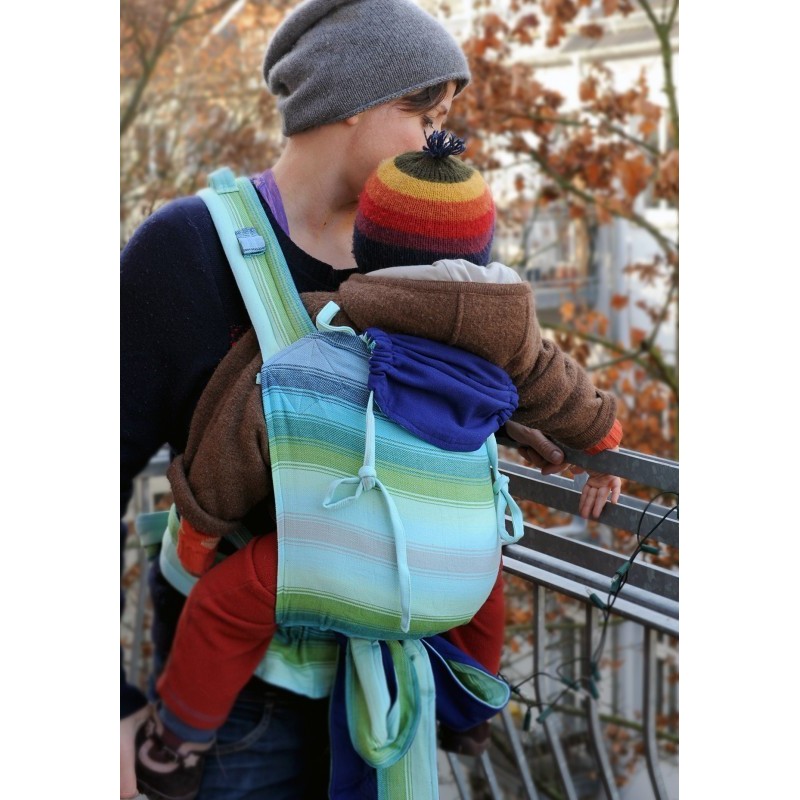  
Mysol Girasol
The Chinese style baby carrier that fits perfectly even with very small babies.
Weave
twill
Suitable for
From newborn till toddlerhood (app. size 50/56 – 98 or age 2+)
Includes:
One MySol babycarrier with waistband to tie, a handy pouch, a chest belt to be closed with Velcro for back carry, a nice storage bag made from matching wrap fabric for safekeeping your MySol and an instruction leaflet.
Washing instruction:
Machine washable, 30° up to 60°, preferably in a pillow case. To protect the fabric as well as the environment we recommend a low temperature. Please use mild detergent and a gentle cycle (max. 900 rev.), no softener or brightener.
No dryer. Do not iron shoulder straps and hip belt.
Dimensions:
Shoulder straps - 2 m
Padded part – 0,50 m
Shoulder strap unpadded – 1,50 m
waistband – 2,30 m
Middle: padded part – 0,80 m
Waistbelt unpadded – 0,70 m
back panel – 35 cm bzw. 44 cm
Length above waistbelt – 60 cm
Seat – min. 15 cm - 50 cm max.
Head support – max 23 cm
Description
The MySol babycarrier is the perfect alternative to a wrap. With the MySol you can carry your baby from birth till toddlerhood safely, comfortably and ergonomically tummy to tummy or on your back.
Its design is based on traditional Asian babycarrier,s called Meh Dai, adapted to modern needs by adding sophisticated features.
The MySol consists of two layers of our high-quality woven wrap fabric. Thus it nestles around your baby like a second skin providing perfect support.
The MySol is a babycarrier meant for lasting babywearing joy. This carrier accomodates your baby as they grow: The width of the seat can be cinched smoothly and easily which is important for the spread-squat-position (knees higher than bottom) and thus supporting the healthy development of baby's hips particularly during the first 12 months. The back panel allows for resizing according to your baby's growth: As soon as your baby grows into size 74/80, simply thread the waistband into the lower tunnel. An integrated sleep hood (also fully adjustable) supports the head of your sleeping baby and also helps to protect from the sun. Also, you can adjust the width of the neck area. Padded shoulder straps and a padded and waist belt help to make babywearing a most comfortable experience for you.
Developing the MySol we decided to avoid hard plastic parts, clasps, buckles and complicated adjustment features. Instead, we added a chest belt for carrying on the back and a practical hip bag for all the important items such as your wallet, keys or mobile.
Girasol developed the MySol in cooperation with experienced babywearing consultants. It is manufactured, hand woven and sewn with love, by skilled artisans in small workshops in Guatemala under fair-trade conditions. For comfortable babywearing joy with love and conscience!
+ from birth to toddler
+ easy to use
+ made from woven wrap fabric, no irritating plastic parts
+ reversible, including chest belt, hip bag and storage ba
No customer reviews for the moment.